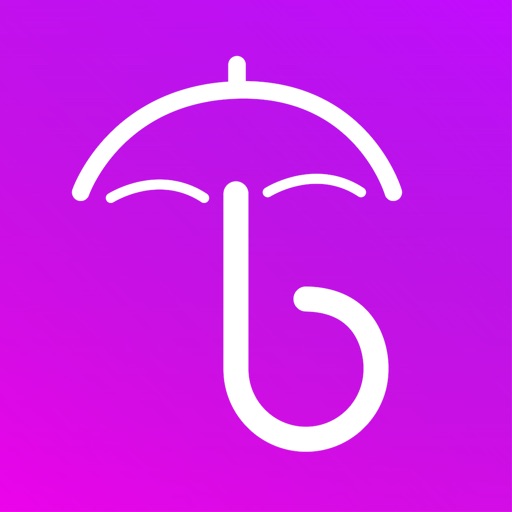 Brella - Your Personalized Weather Forecast
Matt Barker & Austin Astorgaのアプリ一覧
Meet Brella, a beautiful and thoughtful weather app that takes the "um" out of the forecast and delivers your personalized weather forecast daily!

Featured by AppAdvice and Macworld!

Beautiful, Thoughtful Design

Brella streamlines the crowded weather forecast down to its most essential elements. Bold, vibrant colors indicate the temperature at a glance, while temperature and conditions are presented with crisp, bold text. The hourly forecast provides a clean, yet detailed look at the day's weather, while the daily forecast makes comparing temperature ranges nearly instantaneous.

Playful Personality

While we were teaching Brella how to translate your wardrobe into a readable forecast, we might have let this super-powered AI spend a little too much time online. From pop culture and movie references to delightful messages and cheesy compliments, Brella adds that personal touch in a personalized daily forecast that will make you smile, cringe, or sminge. Look for seasonal updates!

Daily Notifications

Always checking the weather in the morning to see what to wear? Have the answer right on your lock screen when you wake up with Brella's personalized forecast. You can choose exactly the type of information you want in your notification, from bare-bones essential weather to a detailed forecast summary. In addition, you can check out what wild wisdom Brella has to offer at any time through the Today Widget in Notification Center. Both Notifications and the Today Widget are free for a 10-day trial period, and together are the only in-app purchase.

Powered by the Best

We turned to the best available sources to find and deliver the weather anywhere, even Waldo's hideout. Our backend server is powered by Vapor, a fantastic Swift web framework, and our database is run using the rock-solid Google Firebase. We also use data from Dark Sky, which uses its own custom hyperlocal forecasting system to calculate the most accurate weather forecast possible. Additionally, you can look up the weather in over 100 million locations with data from Google Places, the same database used by Google Maps.

Our Work Is Never Over

We're hard at work bringing Brella everywhere, from Apple Watch support and an iMessage extension to Rich Notifications in iOS 10. We're also always working on algorithm improvements, as well as teaching Brella even more Personality all the time! Let us know if you have any suggestions or any other feature requests!

We are Thrilled You're Reading This!

Not only does it mean you took the time to see what this app is all about, but it means we're on the App Store for the first time! So much time and effort and love has been put into this app, from Austin teaching himself how to be a backend developer to Matt making the first version of the sentence algorithm during freshman finals. These achievements each have varying degrees of wisdom. Feel free to contact us at any time with questions, comments, concerns, or even just small talk about the weather :) .
動画
Umbrella Hat Weather
24 Report: People used sunglasses and umbrellas in summer for protection from heat wave
24 Report: People used sunglasses and umbrellas in summer for protection from heat wave.


Ultimate Umbrella 46" Arc Compact Vented Umbrella
For More Info or to Buy Now: http://www.hsn.com/products/seo/8197086?rdr=1&sourceid=youtube&cm_mmc=Social-_-Youtube-_-ProductVideo-_-504337 Ultimate Umbrella 46" Arc Compact Vented Umbrella...


HSN | Holiday Gifts & Solutions 10.02.2017 - 04 PM
Bring the magic of the Holidays gifts gifts, more gifts with gift solutions for all on your list.... Prices shown on the previously recorded video may not represent the current price. View...