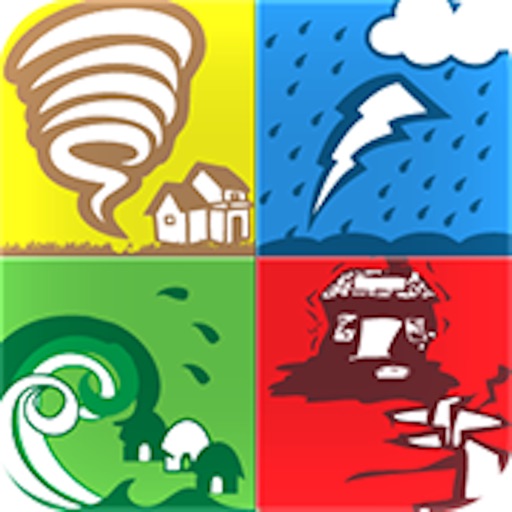 Disaster ID
When a disaster has struck during the night or under adverse conditions (ex. blacked out building), activate your Disaster ID app to help responders visually identify/locate you faster. The color code follows:

Red = Children
Green = Special Needs
Blue = Adults
Yellow = Service Animals/Pets

Steady signal = I'm OK
Flashing signal = Need medical assistance

Try the updated version of the Disaster ID app called Visual 911+ app. Visual 911+ not only turns your screen into a visual signaling device, but if networks are up an running it also transmits your general GPS location to your family/friends via email when you activate an "Alert" status, including "I'm Safe".

For longer lasting visual signaling capability purchase the original Everything/Tactical Lights at TsunamiLights.com . They will last from 4 to 9 days on a solid color selection and 7 to 15 days on a flashing selection. The Everything/Tactical Light have a lock feature that prevents the lights from being inadvertently changed or turned off. Featuring a last selection memory, the Everything/Tactical Light will turn back on the selected color in case power is lost due to shock received by the light. Everything/Tactical Lights are pressure tested to 200 ft. of water and are combat proven. Buy one for each member of your family and empower yourself and your loved ones to help first responders help you and your family. Great back up emergency lights!
動画
TETON DAM FAILURE "DISASTER AT TETON" IDAHO 1976 88384
Made by Bell Telephone in the wake of the failure of the Teton Dam, DISASTER AT TETON shows recovery efforts. It has particular attention paid to communications and the phone system. The...


Roblox Natural Disaster Survival : มหันตภัย ไว้ใจไผบ่ดั้ย !!!
Roblox : https://www.roblox.com/games/189707/Natural-Disaster-Survival ♤♤♤♤♤♤♤♤♤♤♤♤♤♤♤♤♤♤♤♤♤♤♤ ถ้าชอบอย่าลืมกดไลค...


Sunshine Mine Fire Disaster Idaho November 1972 MSHA
The Sunshine Mine near Kellogg, ID, was the nation's premier silver producer for many years. In 1972, the mine was nearly 6000 feet deep, contained hundreds of miles of worked-out areas, and...


Audio Disaster - ID 2 (Demo)
Kapcsolatok / Contacts:: Facebook: https://www.facebook.com/audiodisasterofficial Gmail: audio.diasaster.nfo@gmail.com / kzg.djblade@gmail.com Soundcloud: https://soundcloud.com/audio-disaster...


[ID-RO] Official Ragnarok Online Gravindo "BOT Disaster"
After 2 months (Since Open Beta) playing Ragnarok Online on this Official Server. I can only say "The End is Near".. #RIPGravindo #SaveOfficialRagnarokGravindo.