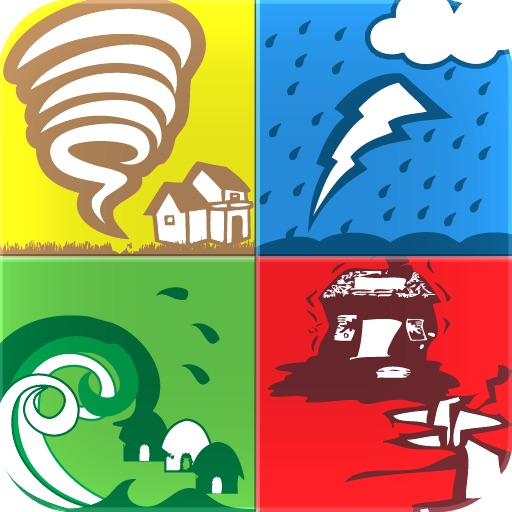 Disaster ID
When a weather or disaster alert is issued activate the Personal Disaster Identification System and select the appropriate selection. Solid Red is for children - pre-disaster, Solid Green is for women - pre-disaster, Solid Blue is for men - pre-disaster and Solid Yellow is for Pets.

Once the disaster has passed change the selection from a constant on color to a flashing color to indicate survival and signal the need for assistance. Use your finger and slide it across the bar from left to right to change the color selection to the flashing selection. Flashing red indicates survivor child, Flashing green indicates survivor woman, Flashing Blue indicates surviving man. If you have tagged your pet or pets change their selection to a flashing yellow.

Slide your finger along the bar from right to left to turn of the app and return to app menu screen.

Purchase the original Hurricane/Tsunami Emergency Lights at HurricaneTsunamiLights.com . They will last from 3 to 8 days on a solid color selection and 3 to 12 days on a flashing selection. The Hurricane/Tsunami Light have a lock feature that prevents the lights from being inadvertently changed or turned off. Featuring a last selection memory the Hurricane/Tsunami Lights will turn back on the selected color in case power is lost due to shock received by the light. Hurricane/Tsunami Lights are pressure tested to 66 ft of water and are combat proven. Buy one for each member of your family and empower yourself and your loved ones to help first responders help you and your family.

http://www.HurricaneTsunamiLights.com
動画
Politics Nation: Voter I.D. Disaster - SNL
Al Sharpton (Kenan Thompson) and statistical analyst Charles Richards (Al Sharpton) rate the presidential candidates' popularity with black voters. Subscribe to the SNL channel for more clips:...


World of Warcraft Quest Guide: Recipe for Disaster ID: 26816
Simple demonstration showing how to perform the above mentioned quest. Quest ID: 26816 Alternative Names in different Languages: English: Recipe for Disaster Deutsch: Zutaten für eine Katastrophe...


ROBLOX DISASTER ISLAND!!
GET THE SIR MEOWS A LOT ONESIE!! - http://bit.ly/DenisMerch ▻THE PALS HOLIDAY PACKAGE HERE! - http://bit.ly/DenisHolidayPackage ▻ SUBSCRIBE to SIR MEOWS A LOT!! -- https://goo.gl/LjyjDR...


EGO VS ID - National Disaster
Recorded live on KGNU Community Radio on November 22, 2010 from the album TASTE. http://egovsid.com/


Audio Disaster - ID (DEMO)
Kapcsolatok / Contacts:: Facebook: https://www.facebook.com/audiodisasterofficial Gmail: audio.diasaster.nfo@gmail.com / kzg.djblade@gmail.com Soundcloud: https://soundcloud.com/audio-disaster...


みんなのつぶやき