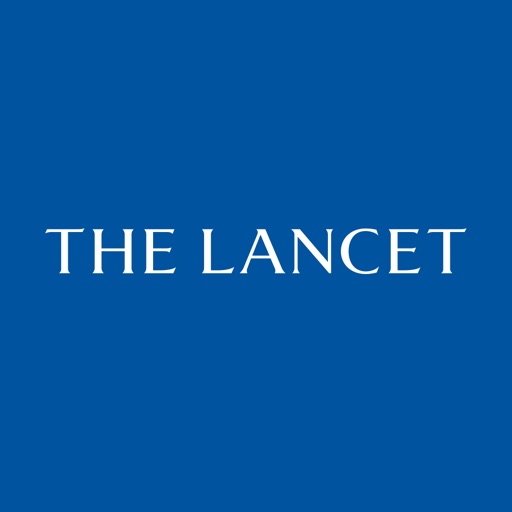 The Lancet
The Lancet

Available for both iPad & iPhone, the new and improved The Lancet app is free to download and offers current subscribers rapid access to recently published content from The Lancet and our specialty publications: The Lancet Oncology, The Lancet Neurology, The Lancet Infectious Diseases, The Lancet Diabetes & Endocrinology, The Lancet Global Health, The Lancet Respiratory Medicine, The Lancet Psychiatry, The Lancet HIV, and The Lancet Haematology journals. The app brings the world's leading independent medical journal and its specialty titles to your fingertips.
• Stay ahead with alerts when new issues are available and read Articles in Press throughout the month
• Experience innovative digital content with the newly introduced Article enhancements; featuring AudioSlides, Virtual Microscope, 3D Radiological Viewer, 3D Neuroimaging Viewer, and more.
• Get access to the journal content on the app via your institution's IP
• Enjoy Open Access and Open Archive Content without having to login
• Accessibility support to assist the visually impaired
• Interact with figures, tables, and supplementary content
• Stream multimedia for faster viewing or download for later
• Take notes, highlight articles and share via email and social media
• Personalize your experience with My Reading List and save articles for offline reading
Minimum requirements: IOS 8
Journal subscribers: Log in with the same username and password that grants you access to the full journal content on the journal website. These credentials will allow full access to all content on the app.

About The Lancet

The Lancet publishes a weekly journal and nine monthly specialty journals in the fields of global health, diabetes and endocrinology, oncology, neurology, psychiatry, respiratory medicine, haematology, HIV, and infectious diseases.

iTunes Subscriptions

iTunes Subscriptions to The Lancet
A single issue of the journal for $3.99
1-year subscription to the journal for $159.99

iTunes Subscriptions to The Lancet Oncology
A single issue of the journal for $13.99
1-year subscription to the journal for $159.99

iTunes Subscriptions to The Lancet Neurology
A single issue of the journal for $13.99
1-year subscription to the journal for $159.99

iTunes Subscriptions to The Lancet Infectious Diseases
A single issue of the journal for $13.99
1-year subscription to the journal for $159.99


iTunes Subscriptions to The Lancet Diabetes & Endocrinology
A single issue of the journal for $13.99
1-year subscription to the journal for $149.99

iTunes Subscriptions to The Lancet Respiratory Medicine
A single issue of the journal for $13.99
1-year subscription to the journal for $149.99

iTunes Subscriptions to The Lancet Psychiatry
A single issue of the journal for $13.99
1-year subscription to the journal for $149.99

iTunes Subscriptions to The Lancet HIV
A single issue of the journal for $9.99
1-year subscription to the journal for $99.99

iTunes Subscriptions to The Lancet Haematology
A single issue of the journal for $9.99
1-year subscription to the journal for $99.99

Payment for all purchases will be charged to your iTunes account upon confirmation of purchase.


iTunes Subscriber's Auto-Renew Feature
Yearly iTunes subscriptions will automatically renew each year unless you cancel. You can cancel at any time and up to 24 hours before your current subscription expires. Your iTunes account will automatically be charged the same price for the renewal within 24 hours prior to the end of the current period unless you change your subscription preferences in your iTunes Account Settings. You can manage your subscriptions through your Account Settings after purchase. No cancellation of the current subscription is allowed during the active subscription period.

Our privacy policy is here: http://www.elsevier.com/EULA_Apple_apps
動画
What is The Lancet?
Join us on a tour through our nearly 200 year history: from Thomas Wakley's original mandate to today's thriving portfolio of leading specialty journals and digital initiatives. Launched to...


Pollution: a global public health crisis
Read The Lancet Commission on Pollution and Health: http://www.thelancet.com/commissions/pollution-and-health Credit: Pure Earth.


High-Carb Diet - Reverses Diabetes - Peer Reviewed Journal, The Lancet
Newsletter signup: http://mindfuldiabetic.com/


The Lancet Oncology Cancer Control Hub
The Cancer Control Hub brings together the best evidence to improve cancer care worldwide. For more, visit http://www.thelancet.com/oncology/cancercontrol.


Richard Horton, Editor-in-Chief of The Lancet, "Planetary Health"
"Planetary Health: Perils and Possibilities for Human Civilization," Keynote Address of the 2017 Leila and Melville Straus 1960 Family Symposium Wednesday, April 12, 2017 4:30pm-6:00pm Ballroom,...