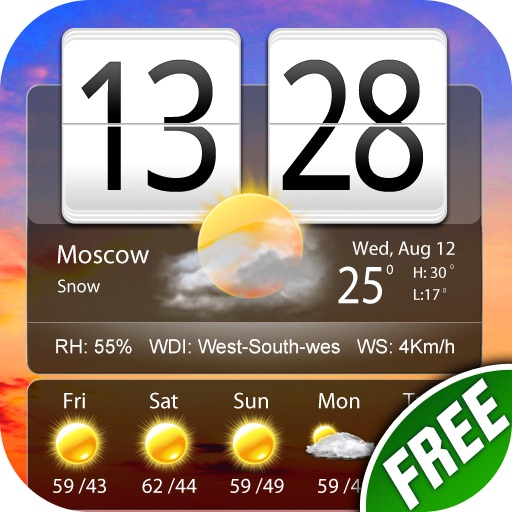 Free Live Weather Clock Pro
Professional Weather Report application.

Live weather backgrounds display, Global cities weather report, and the world clock display.

Specific functions include:
- Support 5,000,000 cities of the world weather reporting capabilities.
- Support for the weather forecast for the next four days.
- World clock display.
- The whole point of voice alerts.
- The meteorological data up to date.
- Positioning, automatic positioning, and inquired about the weather conditions in your city.
- The number of cities in real-time weather forecasts.
- Temperature trend map that shows the temperature trend for the last five days
- Dynamic weather background, according to the current city weather conditions, the background of the interface will automatically switch and display the dynamic background of the current weather conditions.
- Display the current time and current date.
- The maximum temperature and minimum temperature.
- The details of the wind direction and speed.
- Weather index information
- Somatosensory temperature.
- City and humidity display.
- Automatic lock switch, you can control whether to automatically lock screen.
- Meteorological data acquisition time is set.
- 3 hours, 5 days weather forecast.
- Weather clock full screen display, Automatically switches to the horizontal screen, vertical screen.
動画
Transparent Clock & Weather App Review
The weather Application that I use and recommend on my Note 4 is the transparent clock & weather app.


14 Days Weather & Clock PRO °F
Application adds widget, that presents clock and weather info. Data is synchronized with Internet for current weather stations readings provided by widget. Application is ideal for cell phones...


Transparent clock weather Pro v0.90.03.10 APK
http://adf.ly/1ZTtoW A full featured, completely customizable digital clock and weather forecast application and widget! Transparent clock weather Pro v0.90.03.10 APK Transparent clock weather...


Weather Clock
New Weather App from MobileRise https://play.google.com/store/apps/details?id=com.mobilerise.weather.clock.free.


Top 5 Widgets for Android!
The great thing about Android is its customizability. There are tons and tons of widgets available on the PlayStore. XDA TV Host Zach was told he had to single out 5 that he had to have? He...