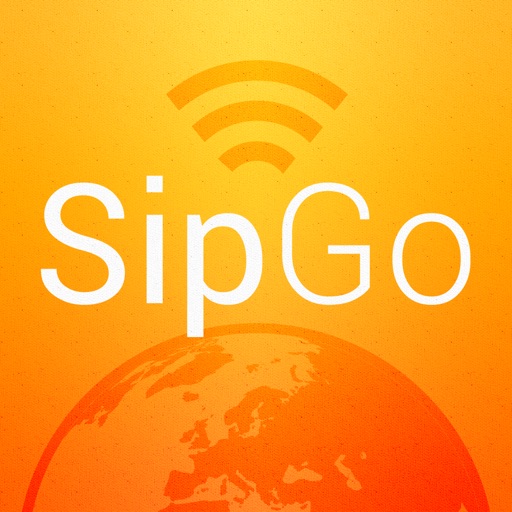 SipGo - Sip Dialer
SipGo is your application for all SIP calls. Our Voip Softphone works with any popular VoIP provider. The SipGo SIP Dialer is easy to use and can be set up in just a few seconds.

SipGo offers perfect security and allows you to make crystal clear voice calls over any 3G or WiFi internet connection. Save on your calling charges by integrating the use of the SipGo SIP Dialer in your daily calling routine. Call anytime you want, anywhere you go with the SipGo softphone.

SipGo is a low bandwidth sip dialer which offers the option to choose from several pre-configured providers (like VoipStunt, VoipBuster, SipNet and many others), or set up a custom SIP SoftPhone by simply filling in the details of your VoIP provider and your own credentials.

SipGo is a standalone SIP dialer and offers free SIP calling solutions for individuals and businesses alike, just make sure you've got a registered account with a VoIP provider which supports SIP calls.

SipGo offers standard SIP calls for any of the supported SIP/Voip service providers. Choose one of the pre-configured SIP providers from the list:
12Voip, A1, ABC-Voip, ActionVoip, Amivox, Balses, Blic, BlueFace, BroadVoice, BudgetVoip, BudgetVoipCall, CallEasy, CallingCredit, CallPirates, CallRomania, CamundaNet, CheapBuzzer, CheapVoip, CheapVoipCall, CongStar, CosmoVoip, DialCheap, DialNow, DiscountCalling, EasyCall GR, EasyCallback, EasyVoip, EuroTelefon, Fayn, FlowRoute, FonGo, FonWorld, FreeCall, FreecoNet, FreePhoneLine, FreeVoipDeal, Frynga, GlobalFreecall, GulfSip, HotVoip, InnoTel, InternetCalls, Interphone365, InterTelecom, InterVoip, iTalk, Jumblo, JustVoip, LowRateVoip, MegaFon, MegaVoip, Messagenet, MiTelefono, Mobile4U, MondoTalk, NetAppel VOIP FR, Netelip, Neuftalk, NoNoh, Nymgo, Odorik, OrbTalk, PennyConnect, PoivY, PowerVoip, PTTJapan, RebVoice, Rynga, Senatel, SipDiscount, SipNet, SkyLink, SmartVoip, SMS Discount, SmsListo, StuntCalls, SuperVoip, SuperVoip, SuperVoip Subscription, Svanto, Tecobu, Telbo, VoiceTrading, VoipaLot, Voip-A-Lot, VoipBlast, VoipBlazer, VoipBuster, VoipBuster PRO, VoipCaptain, VoipCheap Global, VoipCheap UK, VoipChief, VoipDiscount, VoipGain, VoipJumper, VoipMove, VoipR, VoipRaider, VoipSmash, VoipStunt, VoipWise, Voipyo, VoipZoom, WebcallDirect, or set up any custom Sip provider you like!

If you're using a SIP service which isn't listed, or if you would like to have your SIP provider listed, simple contact us through our website!

Enjoy the financial advantages and superior sound quality of the SipGo SIP Dialer now!
動画
FonoLatino Dialer Softphone para iphone y ipad
Tutorial de instalacion y configuracion.


FonoLatino Dialer Softphone para iphone y ipad1
Make cheap SuperJUMBLO call with Sipgo on your computer.
Make cheap SuperJUMBLO calls with Sipgo Windows on your computer and laptop. This video describe how to do this. Visit for details.http://blog.superjumblo.com/make-cheap-call-with-sipgo-in-your-com...


Configuración Línea Adicional IP móvil en Softphone Zoiper
Instructivo que permite configurar tu Línea Adicional IP móvil en Softphone Zoiper.