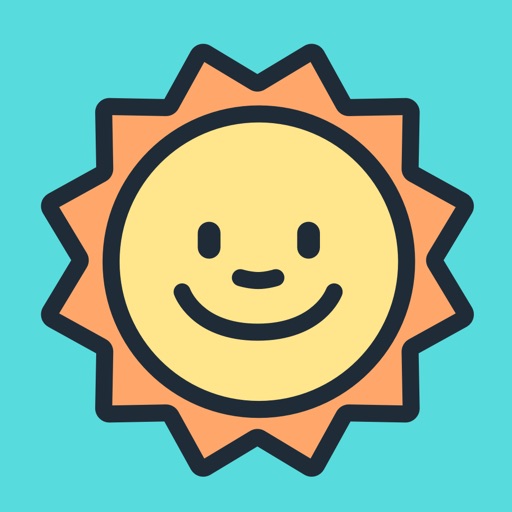 Hello Weather
Say hello to Hello Weather—the exceptionally useful, amazingly accurate, no-nonsense weather app. Now redesigned for iOS 11 and iPhone X!

• The perfect balance of design and data.
Our gorgeous, information-dense design helps you quickly read the current conditions and forecast at a glance. Complete details like wind speed, humidity, and sunrise/sunset times are all just one tap away.

• Super accurate no matter where you are.
Hello Weather is one of the only weather apps that supports a range of data providers. We offer forecasts from Dark Sky, Weather Underground, Accuweather, The Weather Channel, and Aeris. You can pick the one that's best in your area, or switch back and forth to compare. (Upgrade required.)

• Powerful radar built in.
When a storm's a-brewin', we've got your back. Our radar tab shows you exactly what's headed your way. (Upgrade required.)

• Just-in-time reporting.
Hello Weather intelligently adapts itself to changing conditions. If it's windy, foggy, rainy, or apocalyptic outside, you'll see all the relevant information right upfront. After the storm, it's all tucked neatly away again.

• A cool chameleon.
The weather changes every day, and Hello Weather changes right along with it. We've got beautiful color themes for cold, warm, and hot days — plus a special automatic night mode to keep it mellow.

• Free unless you dig it.
We believe Hello Weather's the best, and we want you to think so too! Use it for free as long as you want. If you find it useful, then you can upgrade for pro features, including radar, data sources, up-to-the-minute rainfall estimates, night mode controls, and awesome extra Home screen icons.

• A company you can trust.
We pour a lot of love into our app, and we take great care of our customers. We're always just an email or tweet away, and we love hearing from you!

Hello Weather in the press:
"An easy, straightforward weather app that shows you just what you need to know."
— AppAdvice

"Easily the best weather app on the market." — Ben Brooks, The Brooks Review

"Hello Weather strips it down to the essence." — Macworld

"Very smart, with a clean layout and readable graphs. It eschews complexity without limiting information." — TechRadar

"Well designed and clearly made with love, with lots of delightful little details throughout. — Tools and Toys"

"Strikes a great balance between data accuracy and beautiful design."
— Federico Viticci, MacStories


== In-App Purchase Subscription Conditions and Terms of Use ==
If you decide to join our Fan Club and upgrade for extra features, here are the details!
* You'll be charged $4.99/year on a renewing basis.
* Payment will be charged to your iTunes Account at confirmation of purchase.
* Your subscription will automatically renew each year, unless you turn off auto-renewal at least 24-hours before the end of the current period.
* Your account will be charged $4.99 for renewal within 24-hours prior to the end of the current period.
* You can manage your subscription and renewal settings, or discontinue your subscription by going to Account Settings after purchase. (Or just hit the "Change subscription" button inside Hello Weather.)

For more details, terms of use, and our privacy policy, check out: http://helloweatherapp.com/terms

Thanks so much for trying Hello Weather! We hope you like it. <3
動画
How's The Weather? | Super Simple Songs
How's The Weather? is now available on the Super Simple Songs Volume 2 DVD! Get it on Amazon! http://bit.ly/SuperSimpleSongsVol2DVD... It's a Super Simple weather song! How's the weather where...


Weather Song For Kids: The Sun Comes Up!
Get this song on iTunes: http://bit.ly/yUEnUA Hi! This is Matt. Let's sing the weather song together! This is exactly how I sing this song with my students, and they love it!


The Best iPhone Weather App: Hello Weather Review IOS
The best weather app, and it's free too. Thanks for watching!


Hello Weather Review
Hello Weather is another weather app for your iPhone. I have been using it the past weekend to review it. Enjoy ***My Gear*** Canon T3 iPhone SE Nexus 6 -------- Snapchat - https://www.snapchat....


How's the Weather Song
How's the Weather Song is a fun, simple song for preschool, kindergarten kids and the ESL / EFL classroom to learn the weather. Download on iTunes: http://apple.co/1ipOxXl Watch the Weather...


みんなのつぶやき